BATHE YOUR FACE IN LIGHT TO BANISH WRINKLES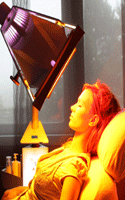 BATHING YOUR FACE IN LIGHT – THE NEW WAY TO BANISH WRINKLES.
BY CHANTAL COOKE.
A light facial; no lotions, no creams, no popping black heads, no exfoliating or micro-dermabrasion – just light. Very bright light.
The Beauty Angel facial uses light (in a broad active light spectrum of 570 – 850 nanometres) to rejuvenate the skin naturally. The 'Beauty Light' is absorbed by the skin cells (fibroblasts), where it stimulates the body's own production of collagen, elastic and hyaluron. This reduces small wrinkles and helps the skin become tauter and smoother.
After the initial shock of the brightness of the lights shining in my face it was a very relaxing treatment. Just lie there, keep your eyes closed and relax. You don't have to wear the goggles – but I recommend it. Even with them on I found the first couple of minutes almost painfully bright. But you soon get used to it and find yourself drifting off into your own private dream-world, as the light does its work – increasing production of structural proteins (collagen, elastin, hyaluron), accelerating wound healing, repairing UV damage, homogenizing pigment distribution and remodelling connective tissue.
It's believed this can help with anti aging. Skin aging is influenced by a number of factors. The supply of nutrients to the epidermis (outer layer of skin) already starts to decline from the age of 25 onwards, resulting in a tired, sallow and uneven complexion. As people get older, fibroblast (cells that produce collagen) metabolism slows down, resulting in a continual decline in the collagen content of the skin. Since collagen is the primary 'filler' in connective tissue, the skin loses tautness. The reduced cell regeneration also causes a loss of moisture and elasticity, ultimately resulting in the formation of wrinkles.
While normal cosmetic treatments mainly enhance the surface of the skin, photo bio stimulation firms and regenerates the skin tissue from the inside.
After the treatment I felt relaxed and there was none of that slightly raw feeling you can get after some facials. My skin certainly looked good – it was softer and I had a healthy glow. Clearly, to really see any major, long term benefit you'd need more than one treatment and maintenance would require regular monthly treatments.
According to the manufacturers the results of the 'Beauty Light' treatment are directly related to your age, your lifestyle and the current state of health of your skin. They say that 80% of those surveyed in a broad-base study had softer skin after one month, and over 60% had other visible effects.
If you like something that is quick (this only took 30 minutes) and doesn't leave you with a greasy hairline (I always find my hair needs washing after a facial) then this is ideal.
My treatment took place at Spa Illuminata in Mayfair  020 7499 7775.
For more information about Beauty Angel therapy see: Twitter @BeautyAngelUK and Facebook 
About the Author
Chantal Cooke is an award winning journalist and broadcaster.