HOW TO STAY ACTIVE ON A BEACH HOLIDAY
A beach holiday isn't all just sunbathing and sand; being on the coast gives you the opportunity to stay active out on the water. Gary Sinclair, watersports activity manager for Neilson explains the benefits of the most popular watersports you can try on holiday, explaining how they'll give both your mind and body a workout.
DINGHY SAILING – best for practical thinkers
What is it?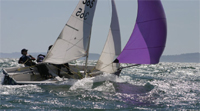 Simply put dinghy sailing involves a small open boat with a sail which is used to harness the power of the wind, to move you through the water.  Some dinghies are designed for speed and exhilaration, while others are better for learning and more relaxed sailing. You can sail on inland waters such as lakes and reservoirs or take to the open seas at home or abroad on warm blue seas.
What muscles it works
Sailing requires balancing the boat with your weight and it will definitely improve the strength in your leg and core stability muscles, especially as you start hiking out of the boat. With a lot of pulling in ropes for the sails it will also improve your upper body strength.
Calories burned an hour
400 if racing
 Other benefits
Mental workout – Dinghy sailing will help boost your brain power as you get to grips with wind directions, and reacting to changes in conditions and manoeuvring the equipment accordingly.
Adrenaline thrill – Dinghy sailing can be as fast or leisurely as you like and if you're an adrenaline junkie you can race along at fantastic speed, a real thrill especially when you have to be aware of the elements around you.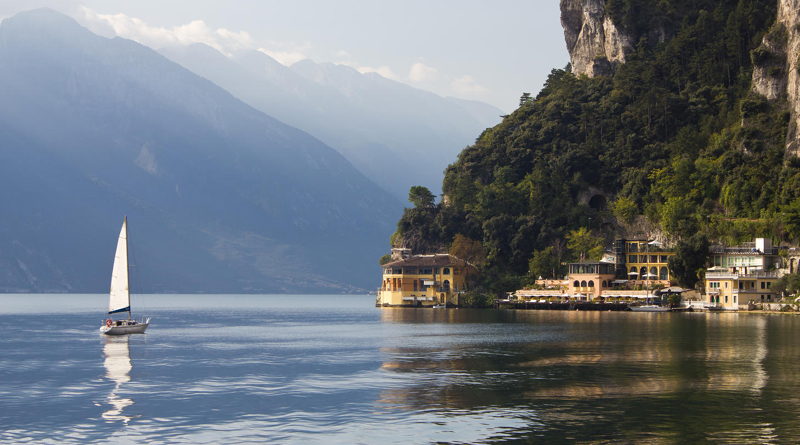 "Dinghy sailing is a great sport if you're looking for something that involves some athletic ability and tactical awareness – and a very strong social element. Racing is a fantastic way to improve your technique and it's a mental challenge too, little like chess on water with lots of tactics involved! As such it is really suited to people who want to challenge themselves against the elements in a more stable and dry environment (you can get very wet on windier days though!)." – Gary Sinclair
STAND UP PADDLE BOARDING (SUP) – best if you're short on time
What is it?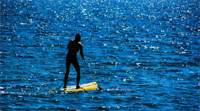 Stand up paddle boarding (or SUP for short) is an offshoot of surfing that originated in Hawaii. Unlike traditional surfing where the rider sits until a wave comes, stand up paddle boarders stand on their boards and use a paddle to propel themselves through the water.
What muscles it works
SUP is another watersport that offers a total body workout, including the biceps and triceps, the obliques and abdominal muscles, the hip flexors and the muscles of the lower leg and foot for stabilization.
Calories burned an hour
615-708
Other benefits
Improves balance – Stand up paddle boarding requires you to stand upright on the board, which requires a lot of core stability and leg strength to maintain balance. This not only helps you have a good balance while paddle boarding but increases your focus and balance in day-to-day activities as well
Low impact – Stand up paddling is a very low impact exercise. Therefore, it is unlikely that you will do damage to the tendons and ligaments of your joints. Paddle boarding is particularly useful for runners that are experiencing shin splints or knee and hip pain, yet still need a good exercise whilst recovering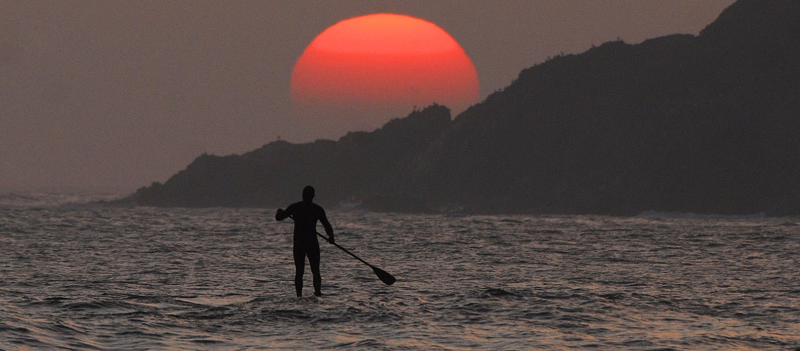 "The best thing about SUP is that it's so easy and quick to get out onto the water.  It's a great social activity to get friends involved, especially those who wouldn't normally fancy doing watersports. It's perfect if you're limited on time as well as it's so easy to set up and get going – anyone can try it, you just need a Just need a sense of adventure and a willingness risk falling into the water sometimes!" – Gary Sinclair
WATER SKI – best for fun thrill-seeking groups
What is it?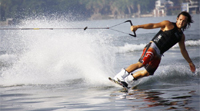 First conceived of in 1922 by an 18 year old who posited the idea that 'if you could ski on snow, why not on water?' water skiing is a watersport where the 'skier' is pulled behind a powerboat via a ski rope, zipping atop the water on one or two skis. Beginners generally learn on double skis, then progress to a single ski.
What muscles it works
There's a misconception that waterskiing is all about the lower body, but it actually uses every muscle in your body. It works core muscles, arm muscles, leg muscles, and all the muscles around them.
 Calories burned an hour
Around 400
 Other benefits
Easy on the joints – Waterskiing uses just about every muscle in the body without wearing down joints because it is all body weight resistance in free range of motion
Meditative – Being on the water, much like in sailing can have a calming effect on the mind and forces you to focus on the task at hand, forgetting about the day to day stresses and worries. Not to mention that the endorphins from being active will keep you happy and healthy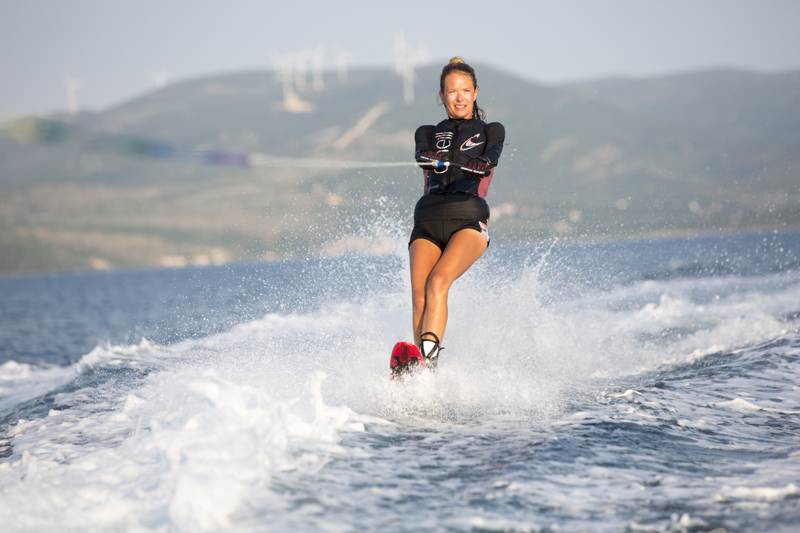 "I would recommend this sport as a summer activity to anyone who loves skiing and snowboarding. You don't have to ski you could wake board or wake surf – and many beaches now have cable parks which brings the costs down and makes it much more accessible compared to hiring a boat. It's a really social sport, and it's (almost) as fun to watch your friends doing it is as it is having a go yourself. This is perfect for thrill seekers and people who like to push themselves to learn something new. Physically, it will improve core balance as it uses all the muscles in your body, but my favourite thing is the banter with your friends! If you love winter sports this is the next best thing to getting your fix." – Gary Sinclair
WINDSURFING – best for people with patience
 What is it?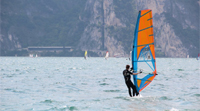 Windsurfing is a watersport that combines elements of surfing and sailing. The sport emerged in California in the 1960s using a modified surfboard with a movable mast.  Windsurfers stand upright on a 2.5-3 metre long board, controlling the sail with their hands to catch the wind and manoeuvre through the water.
What muscles it works
Upper and lower legs, including the hamstrings, quads and anterior tibialis. Your core muscles will get a good workout as well as the muscles of your shoulder girdle.
 Calories burned an hour
Recreational windsurfers probably burn around 500 calories an hour
Other benefits
Mental benefits – If you're out on a sunny day you'll soak up some vitamin D which is known to combat depression
Cardiovascular – Windsurfing is an amazing cardiovascular exercise because it requires the use of several of your bodies major muscle groups
Even beginners get a great workout – Novices might spend half of their time in the water, but this is all part of the workout. Falling off the board means you are constantly pulling yourself out of the water which works your arms and increases your calorie output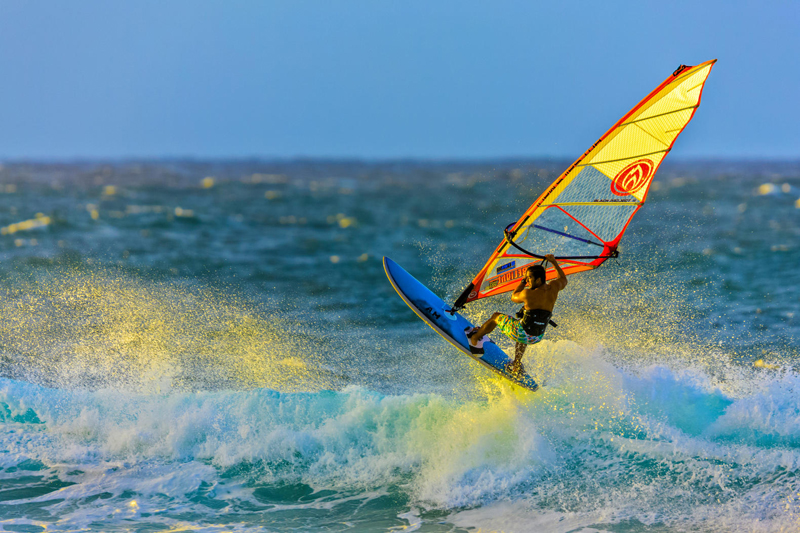 "This is the perfect sport for improving fitness and water confidence. There is nothing like the exhilaration of gliding across the water using the wind as propulsion, and peaceful too as there are no engine noises, just the sound of board skimming across the water. Windsurfing gives you a massive sense of freedom, when you've mastered it you can travel great distances in a short amount of time. One of my favourite things about wind surfing is the camaraderie out on the water, everyone's looking out for each other and pushing you to improve." – Gary Sinclair