48 HOURS IN VENTURA: DAY TWO
48 HOURS IN VENTURA: DAY TWO   
By CHANTAL COOKE   
You'll need an early start to get over to the Channel Islands. The ferry leaves from Ventura Harbour and tickets can be bought from Island Packers.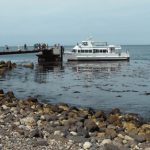 The Channel Islands are well known for their wildlife, which you can experience from the land by hiking across the island, or from the water by booking a sea kayaking trip with Channel Islands Outfitters . I choose the caves and coves kayaking trip.
There was a beginners lesson on sea kayaking, an embarrassing squeeze into a wet suit and then off we set, dragging our bright orange kayaks into the Pacific.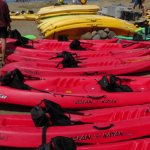 Good news: kayaking is much easier than I imagined, and less tiring. What wasn't so easy was avoiding the other kayakers. It didn't seem to matter which way I paddled, I was like one of those irritating kids on the bumpers cars – always bashing into people.
Despite my clumsiness, the group was soon skirting along the coast to the first cave. Kayaking inside a cave or under an arch is completely different to the open ocean: the rocks are very close and jagged; the waves behave differently; and the interplay of filtered sunlight and shallow water is distractingly beautiful. But as the water isn't deep all you need to do if you fall in is stand up and climb back into your kayak.
It took me a few attempts to get though my first cave as the waves were rolling in hard and pushing my kayak in every direction other than in and through. At one point I tipped so far to one side my hand touched the seabed. And on another I only just ducked in time before my head (fortunately safely encased in a helmet) cracked against the low hanging rocks above me.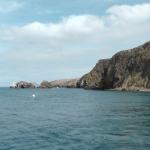 But it was all worth it. To be so close to the ocean, to slow down as a cormorant swims alongside me, to squint up at the pigeon guillemots just a few feet above me on the rocks, to gawp mesmerised as tiny fish dart around my paddle, to hold a living starfish in my hand and watch as its tiny tentacles reach out into the air to find a rock to cling to, to look up and see a squadron of pelicans fly gracefully over my head, and to play peek-a-boo with a curious seal.
These are the experiences that make kayaking such a great way to enjoy the Channel Islands.
Read 48 Hours in Ventura: Day One

FACT BOX
Island Packers: http://www.islandpackers.com
Channel Island Outfitters: http://www.channelislandso.com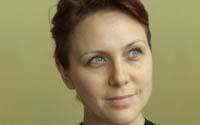 About the Author:
Chantal Cooke is an award winning journalist and broadcaster with a passion for the planet. In 2002 she co-founded the award winning radio station PASSION for the PLANET and in 2009 Chantal was awarded London Leader in Sustainability status. Chantal also runs a successful communications agency – Panpathic Communications.