Treat yourself to some well-earned pampering with the best that nature has to offer, courtesy of Rob Bentley of MiNaturals.
Unlike conventional personal care products that are based on artificial, toxic synthetic ingredients that are harmful to us and our planet, Miessence products are botanically based using certified organic plants, herbs and flowers that gently cleanse, hydrate, revitalise and protect.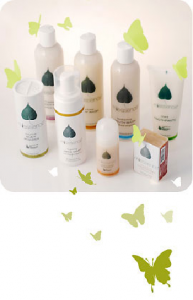 The pack includes Mint Toothpaste, Freshening Mouth Wash, Sunflower Body Wash, Geranium Cleansing Bar, Foaming Hand Soap (Bronze winner in the 2012 FreeFrom Skincare Awards!), Tahitian Breeze roll-on Deodorant, Intensive Body Cream and Luxurious Body Powder.
Thanks to MiNaturals we have one of these fabulous packs to give away – simply enter your name and email address below, and you'll be entered into the draw for a chance to win!
The winner will be notified by email. Please be sure to read our Terms and Conditions.
Entries close at midnight on 15th December 2012 .

More about the lovely Miessence…
Miessence prides itself on providing certified organic products that have unrivalled purity, potency and freshness. Their ingredients are the purest, most potent and freshly extracted natural and organic raw materials on the planet. They disclose all the ingredients for all their products on their website
The company is also proud of its green credentials and takes its responsibility to the planet seriously. That's why their commitment to sustainable business practices goes beyond sourcing the world's finest certified organic products. Their commitment infuses everything they do, from manufacturing, packing, transportation and promotion.
For example Miessence is committed to going a step beyond 100% carbon neutral and has gone carbon negative by offsetting a further 10% beyond calculated emissions. Miessence also use premium renewable energy which is made possible through the support of their local energy provider allowing them to offset 100% to wind energy. By using electric forklifts and machinery run on compressors that all run off this green renewable energy, they can claim zero emissions from their manufacturing operations.
Miessence business practices are audited by GreenBizCheck and receive a World Leadership certification which is verified and audited by Bureau Veritas – the world's largest certification provider.
Place an online order via http://www.minaturals.mionegroup.com  Your order will be shipped fresh direct from Australia within seven working days using biodegradable and recyclable packaging. This promotion is a great way to help you experience the purity and potency of the Miessence range for the first time at an even more affordable price.
Start your own ethical organics beauty, health & wellness business
Rob Bentley who trades as MiNaturals became a UK based Miessence Independent Representative during 2011 and is looking for anyone interested in building their own organics business to join his team. The business is ideal for complementary health practitioners, mumpreneurs and Stay-At-Home-Mums (or Dad's!), as well as personal trainers and owners of online skincare shops, beauty & treatment salons or eco-hotels and retreat centres. If you'd like to find out more please contact Rob via www.MiNaturals.co.uk.