DREAMING OF A GREEN CHRISTMAS [PART 1]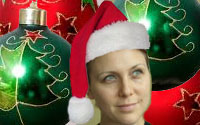 TOP TIPS FOR A LOW CARBON CHRISTMAS [PART 1].  
As we start gearing up for Christmas its time to think about how we can reduce our carbon footprint over the festive period.
So here are a few top tips to help you have a low carbon Christmas without skimping on the fun and festivities…
1) Buying presents for friends and family is one of the best parts of Christmas so if you are choosing gifts or looking for ideas for yourself, try out some of the online ethical gift stores or charity shops. For example: Ethical Superstore, Love Lula

, 

 
2) If any of the items you give or receive require batteries – remember to get rechargeable batteries. They will save you money and at the same time you'll be protecting the environment from the toxic chemicals that are in old batteries.
 
3) Do you really need to buy new Christmas decorations again this year? Could you re-use last years? Or make your own? The frivolities of Christmas are lovely but they use up so much of our resources – so anything you can re-use or recycle will help to cut your carbon and your costs.
4) Send e-cards rather than Christmas cards – it costs less, uses less paper, there are no transport emissions and no waste afterwards. 
5) Choose a live Christmas tree in a pot, rather than a cut tree. They don't drop their spines and after Christmas, if you keep the tree well watered and put it in the garden, it will last until next year. During the year the tree will absorb lots of CO2, so as well as brightening up the garden it's also absorbing carbon from the atmosphere. 
6) If you are decorating the tree choose low energy Christmas lights, (Lights4fun
has a massive range or Ecocentric
has a smaller quirky selection). They don't cost any more to buy but they are much more environmentally friendly, as they use less energy. It is also worth remembering to put the Christmas lights on a timer so they don't stay on all night. It will save money and the environment.
More Low Carbon Christmas Tips on Friday.