SPACE MISSIONS RELY ON RUSSIA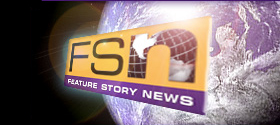 Audio clip: Adobe Flash Player (version 9 or above) is required to play this audio clip. Download the latest version here. You also need to have JavaScript enabled in your browser.
Construction of the International Space Station, a 16-nation project worth 100 billion dollars, is going to be finished next year. Following the completion, the United States space agency NASA plans to retire its shuttle fleet. And as our correspondent Anya Ardayeva reports from Moscow, this is likely to shift the balance of power among space explorers as America will rely on Russia to take its astronauts into space.
PASSION for the PLANET's award winning news partner is FSN, providing global news from bureaus worldwide. You'll find more world news stories, plus analysis from FSN at FSN REPORTERS BLOG.