THE 2010 FES FESTIVAL IS LET DOWN IN SOME WAYS, BUT STILL PULLS OFF SOME STUNNING HIGHS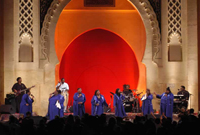 The Fes Festival is in its 16th year.  Highlights this year have been the spectacular Burundi Drummers, the charismatic Epi from Mongolia, and the amazing Amadou & Mariam, who had even the posh seats bum free as the whole of Bab al Makina danced late into the evening. For 2010 there were a number of improvements, but sadly some aspects of this year's festival were disappointing.
Author Sandy McCutcheon lives much of the year in Fes, and has experienced many of the festivals.
Audio clip: Adobe Flash Player (version 9 or above) is required to play this audio clip. Download the latest version here. You also need to have JavaScript enabled in your browser.
Audio clip: Adobe Flash Player (version 9 or above) is required to play this audio clip. Download the latest version here. You also need to have JavaScript enabled in your browser.
These interviews were recorded at the Fes Festival of World Sacred Music 2010.
To find out more about Fes and the festival, visit http://riadzany.blogspot.com/