ST.KITTS DEBUTS SOLAR ENERGY FARM
ST.KITTS DEBUTS SOLAR ENERGY FARM
The St. Kitts Ministry of Tourism has announced the opening of the island's first 1.0 megawatt solar powered energy farm created to power the St. Christopher Air, Sea and Ports Authority (SCASPA).  Located at Robert L. Bradshaw International Airport just north of the runway, the US $2.5 million solar farm is expected to save SCASPA more than EC $1 Million in electricity costs annually.
Approximately 3,500 photovoltaic solar panels, mounted near ground level, now generate more than ample electricity for SCASPA operations, with excess energy to be fed into the island's public electrical grid.
Built at an angle that makes them better able to withstand extreme wind and rain conditions, their reinforced concrete base is designed to withstand approximately 3,000 pounds of pressure per square inch.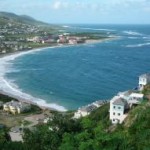 Clearly visible to the air, the panels display the message "Welcome to SKB."
"As our air and sea ports are the only means by which visitors can enter St. Kitts, it is imperative that they are powered by a reliable and affordable source that is also in keeping with our overarching commitment to the preservation of our natural island environment," said Senator Ricky Skerritt, Minister of Tourism & International Transport.
The solar farm is a joint venture between the Governments of St. Kitts & Nevis and the Republic of China (Taiwan), SCASPA, the Sugar Industry Diversification Fund (SIDF) and The St. Kitts Electricity Corporation (SKELEC). Built by Taiwanese technology company, Speedtech, the farm is under warranty for twenty-five years and is expected to pay for itself in only about five years.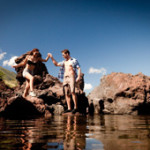 The airport-located solar farm is the most recent green energy partnership between Taiwan and St. Kitts, with other initiatives including solar and LED highway lighting, the installation of solar panels at the island's government headquarters and the development of an agro-tourism farm. Several of St. Kitts' new tourism developments have been designed in accordance with sustainability initiatives, including Koi Resort & Residences, Christophe Harbour, and Kittitian Hill as well as Sky Safaris zipline tours.
In 2008, St. Kitts declared all land above the 1,000 foot contour line to be part of a National Forest Reserve, effectively protecting roughly one quarter of the island and most of its rainforest. The destination aims to achieve 60% of energy generation from green energy sources by 2015. St. Kitts is also a member of the Global Sustainable Tourism Council Early Adopter Program for destinations.
For more information about St. Kitts, visit the website at www.stkittstourism.kn or follow St. Kitts on Facebook, Twitter and/or YouTube.