Q&A: NOELLA COURSARIS MUSUNKA, FOUNDER OF MALAIKA
We chat to Noella Coursaris Musunka, international model and humanitarian, and founder of Malaika, a non-profit that has built a school for girls in the Democratic Republic of Congo. Malaika has recently inaugurated the very first library in Kalebuka, DRC.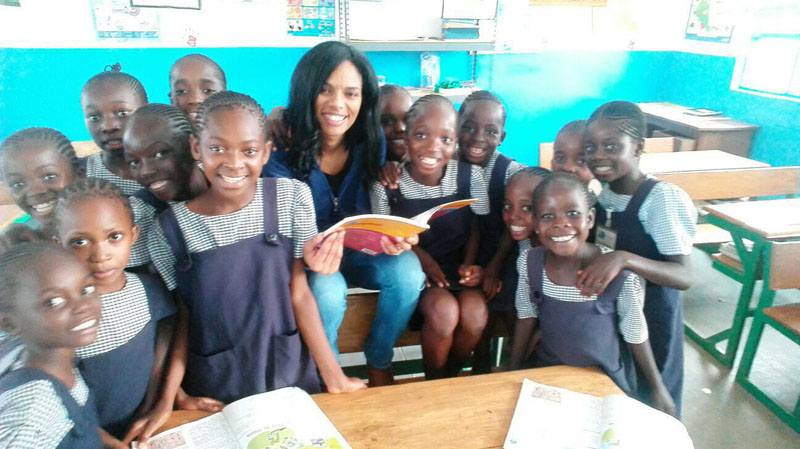 What inspired you to create Malaika?
I had been modelling for years, based first in London and then New York. At the same time, I had always been passionate about empowering women and bringing positive attention to my birth country, the Democratic Republic of Congo. When we first started discussions on how we could have a direct impact, we realised that education is the catalyst for change and that there is little value placed upon educating girls in the DRC. So in 2007 we created Malaika with the mission of empowering Congolese girls and their communities through education.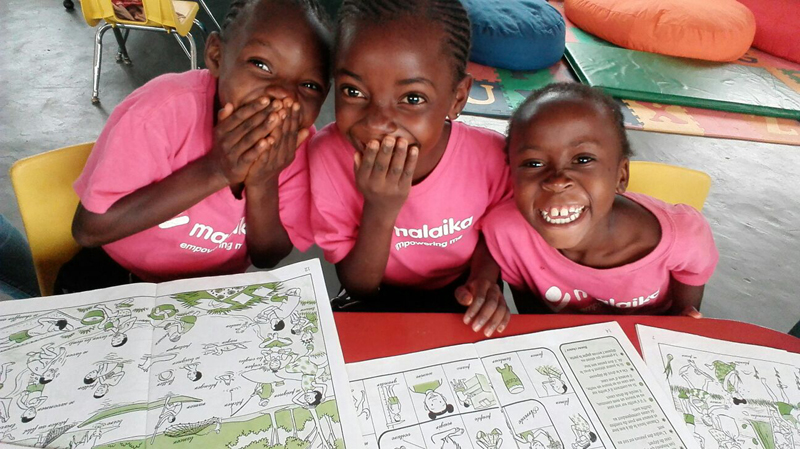 What are the issues that you are addressing through Malaika?
7 million children are currently not attending school in the Democratic Republic of Congo. It is a country that has been torn apart by years of conflict and extreme poverty. The village of Kalebuka is in a particularly underserved area, with few educational facilities and none of them are free. Yet education is the best way to break the cycle of poverty. Educating girls, in particular, has an exponential impact. An educated woman is less likely to die in childbirth and she has healthier children. She is less vulnerable to diseases like HIV/AIDS. She will increase her future earnings by approximately 10-20% for each additional year of schooling and will reinvest most of it back into her family and community. Educating girls has positive benefits in all sectors of society. The World Bank has even posited that educating girls yields a higher rate of return than any other investment.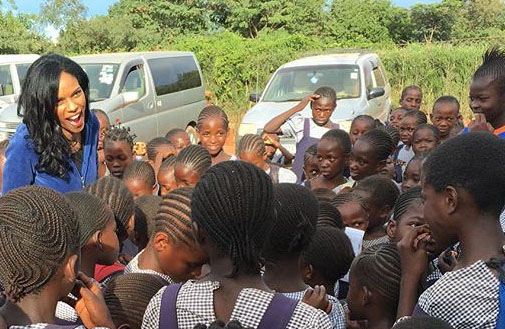 What is the role of Malaika?
Most of our work centres on education and health initiatives, as we believe these form the backbone of a robust society. Our focus is on providing high quality programmes that have a direct impact. We view our role as providing Congolese communities with tools and opportunities that they can then use to bring about positive results for themselves. Our work takes three distinct paths –
1) The Malaika School is a free, accredited school that is providing a quality education to 230 girls. Classes in French and English, math, science, health and civic education are given daily. The goal is to build the leadership capacity of each student so that she gives back to her community and has a positive, long-term impact on the future of the DRC.
2) We impact the surrounding Kalebuka village through our Community Centre, built in partnership with FIFA, which provides education, health and sports programming to 7,000 adults and children.
3) We also provide essential infrastructure development by building five wells that supply over 10,000 people with clean drinking water. This has directly reduced the number of water-related illnesses, like cholera and diarrhoea.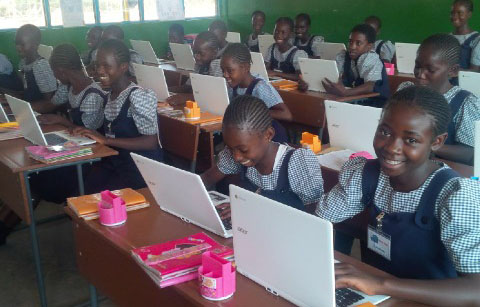 You've recently launched the first library in DRC – why did you decide to do this?
There is a 46% literacy rate for women in the DRC, which leaves many of them disenfranchised, disempowered and more susceptible to abuse. It is even lower in Kalebuka, 4% for adult women and 10% for youth. The Malaika School library is a state of the art facility that provides access to technology and resources that will open up a whole new world for our students and the broader community. It is equipped with print and digital books, accessible on Android tablets, and an interactive whiteboard. Through this new space, the students will be able to enjoy reading, be trained in new technologies and be better prepared for their future.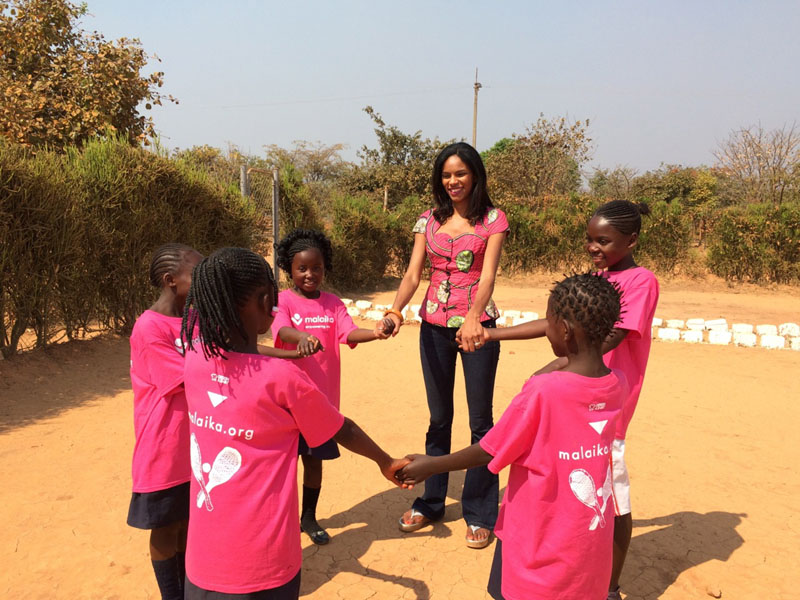 How do you see the future for girls in DRC?
I strongly believe that the DRC's richest asset is its people. Every day we see how driven the girls are to create better lives for themselves. The most rewarding moments are when I see how eager our girls are to learn. They give me the strength and energy to keep going in the challenging moments because of how hard they work. We're not just providing them with an education, we're giving them hope for a different kind of life and they are seizing that opportunity with both arms. As long as girls across the nation are provided with equal access and opportunity, then the future can only be bright.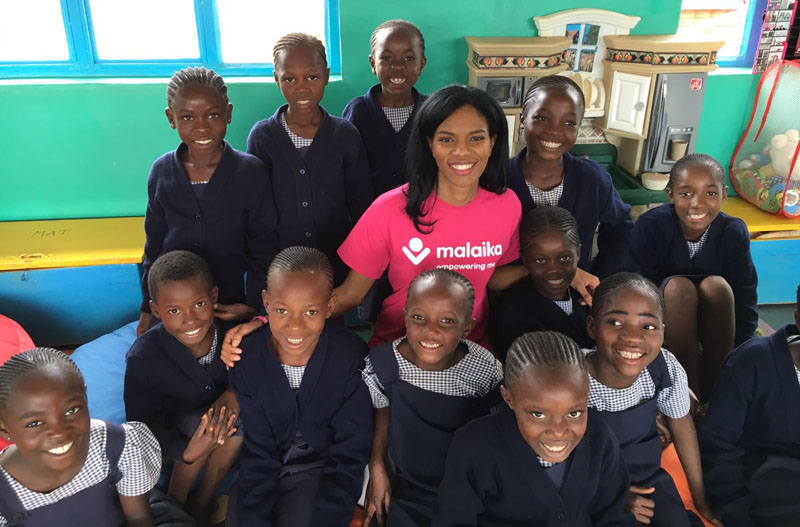 What's next for you / Malaika?
Now we are turning our efforts to fundraising for the Development Offices. This much needed space will include a student health centre, lodging for volunteers, principal's office, and conference room. The student health centre, in particular, is a desperately needed area as there is no clinic in Kalebuka. In December of last year, during the Christmas break, we received the devastating news that one of our Grade 1 students had passed away due to an illness. The lack of access to health facilities in the area meant that little Myriam did not receive the care she needed. Tragedies like these are why we are focusing all our energies on raising funds for the Development Offices and the student health centre. We would like to increase our health checks from twice a year to monthly, and we need room for the Doctor to be able to do this.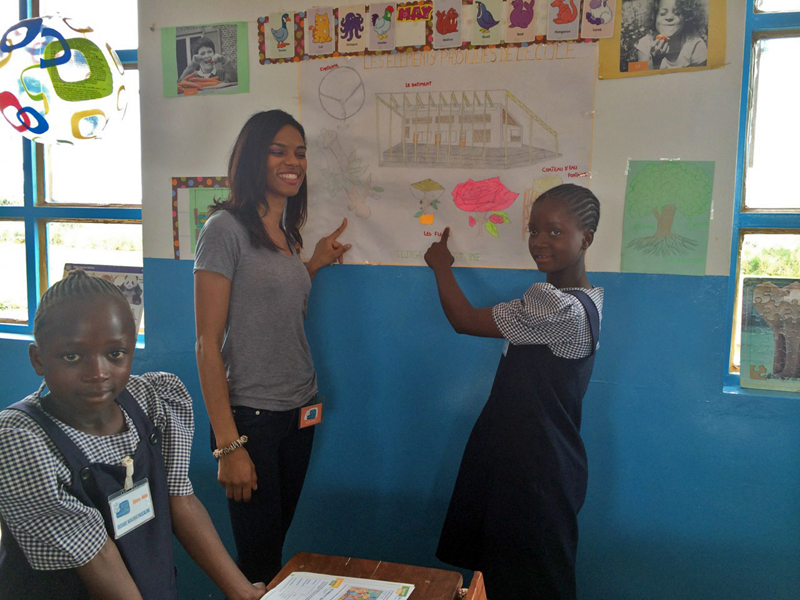 Where can we find out more in UK and how can we help?
You can look at our website www.malaika.org or follow us on social media where we post daily updates of our work – @MalaikaDRC on facebook/twitter/instagram. You can also donate to our programs by visiting malaika.org/donate where you will find options like sponsoring a girl's education, buying school supplies or providing her with breakfast and lunch every day.