HOMEOPATHY: BUILDING A CASE FOR THE DEFENCE
HOMEOPATHY: BUILDING A CASE FOR THE DEFENCE   

Why do so many conventional doctors, scientists, media commentators, and even comedians 'have it in' for homeopathy? What is their 'beef'…?
Part of the UK's National Health Service since 1948, today some 400 fully qualified NHS doctors practice homeopathy. Yet its 'detractors' dismiss homeopathy as 'quackery', while the UK's Chief Medical Officer unprofessionally brands its practitioners as purveyors of  'snake oil'.
Even when presented with substantive evidence for homeopathy's efficacy and effectiveness, why is it still impossible to convince its 'detractors' that homeopathy really does have a role to play in treating patients?
Via campaigning organisations, the media, and the Internet, these 'detractors' militate against homeopathy to governments and healthcare providers. What gives them the right to try to deny people in the UK the choice of homeopathy free on the NHS if they want it?
How should a non-scientist get to grips with and unravel the competing claims of homeopathy's supporters and 'detractors'? Come to think of it, just how good is the evidence for conventional medicine and how does it stack up against the evidence for homeopathy?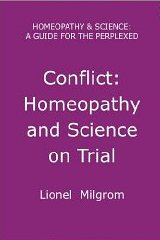 In Conflict: Homeopathy & Science On Trial, scientist, homeopath, and writer Dr Lionel Milgrom, tackles these questions, explores some of the controversial issues they generate  – particularly for  homeopathy's 'detractors' – and presents a compelling case why homeopathy should once more be recognised and accepted as a healing therapeutic modality in the developed world, just as it now is in India, Latin, and South Americas, and many developing world nations.