GLIMMER OF HOPE FOR ENGLAND'S HEN HARRIERS
GLIMMER OF HOPE FOR ENGLAND'S HEN HARRIERS
England's most threatened bird of prey has taken a small step back from the brink of extinction.
Last year, England's hen harriers suffered their worst breeding season for decades, failing to produce a single chick anywhere in the whole country for the first time in several decades. This year, however, is shaping up to be marginally better with three active nests in England.
On the United Utilities Bowland Estate in Lancashire, one pair is currently raising chicks. While there is also a second nest on the estate with the female sitting on eggs, and a third pair nesting at another location in England.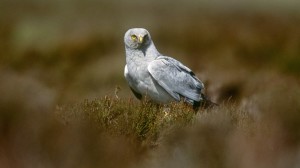 Bowland used to be the English stronghold for hen harriers and the upland bird of prey is even the symbol of the Forest of Bowland Area of Outstanding Natural Beauty. However, the current nests represent the first breeding attempts in the area since 2011.
The RSPB in partnership with Natural England and United Utilities have monitored and protected hen harriers in Bowland for more than three decades. Both nests are being watched by dedicated staff and volunteers, as well as CCTV around the clock.
The RSPB's hen harrier monitoring and protection work in Bowland forms part of Skydancer, a four-year RSPB project aimed at protecting and conserving nesting hen harriers in the English uplands. The project is funded by the Heritage Lottery Fund (with a grant of £317,700) and United Utilities, with additional support from the Forestry Commission.
Jude Lane, the RSPB's Bowland Project Officer, says: "After two years of bitter disappointment, I am delighted and relieved that hen harriers have returned to nest in Bowland. However, the species is still in serious trouble and at risk from extinction as a breeding bird in England."
The plight of the English hen harrier stems from the fact that hen harriers sometimes eat red grouse, which brings them into conflict with the driven grouse shooting industry. This particular type of shooting requires large numbers of grouse, so some game managers feel they must illegally kill or disturb harriers to protect their stock.
A legal method that could reduce the number of grouse chicks lost to hen harriers is a management technique known as diversionary feeding. This involves providing hen harriers with an alternative food source during the period when the adults are feeding their chicks. The RSPB and the local shooting tenant – are currently using the method in Bowland, under licence from Natural England.
Jude continues: "Diversionary feeding is a simple, inexpensive and effective technique. Previous trials have shown it can reduce the number of grouse eaten by hen harriers by up to 86 per cent."
For more information about the project, visit www.rspb.org.uk/skydancer.