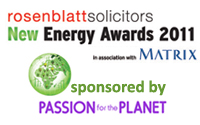 The Rosenblatt New Energy Awards is a lavish event in the renewable energy sector, the awards recognise the achievements of management teams, companies and projects that have made a significant contribution to this sector during the previous 12 months.
Now in their fourth year, the Rosenblatt New Energy Awards recognise and reward only the best individuals and companies committed to alternative sources of energy.
The Natural History Museum provides a stunning backdrop to this unique ceremony, giving guests the opportunity to enjoy a candle-lit meal in the presence of a 20-metre-long dinosaur!
Previous winners include  …
Current Cost's Martin Dix (Entrepreneur of the Year),
the Co-operative Group (Retailer of the Year),
Foresight Group (Investor of the Year)
and Zenergy Power (New Energy Rising Star)
The Rosenblatt New Energy Awards 2011 will showcase the most remarkable companies that are dedicated to ensuring that the human race doesn't go the same way as our prehistoric forebears.
Location: Natural History Museum, Cromwell Road, London SW7 5BD
Date: Thursday 24th February 2011
Time: 7pm – midnight
Price List
10 seat(s)   £2,490
12 seat(s)   £2,790
1 seat(s)      £275
Dress code: Black Tie with a Green Twist
 AWARD CATEGORIES
*Lifetime Achievement Award
*Deal of the Year
*Advisory Firm of the Year
*New Energy Rising Star
*Company of the Year
*Investor of the Year
*Entrepreneur of the Year
*Developer of the Year
*Retailer of the Year
*University Spin-out of the Year
*Project of the Year