TAKE CARE OF YOUR AIR!   
By Chantal Cooke   
During the winter season, do you itch, sneeze or cough? Do you get skin irritations, have difficulty breathing or experience static electricity? Those are all signs that you should check the air inside your house, as its humidity level might not be appropriate.
Humidity is the amount of water vapour in the air. Humidity, also called moisture, is created by you, by your family and friends, by your pets and even by your indoor plants. By breathing and perspiring and through everyday household activities such as showering, bathing, doing laundry, cooking or using the dishwasher, we produce water which evaporates into the air and raises the humidity level.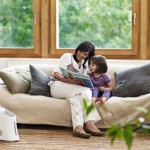 Comfortable humidity helps keep throat and nasal passages hydrated – helping you breathe better and sleep more comfortably. We need humidity for our wellbeing and comfort and too little humidity in a home or office can produce a host of difficulties for the people living or working there. The problems that result may be just a nuisance that causes discomfort, but can be far more serious.
But because air is invisible, it is common to overlook humidity. The difficulties that result from low humidity typically occur during the winter, when we are trying to keep our home and work environment warm. Windows are closed, the central heating switched on, and indoor air circulation and ventilation are reduced. With cooler temperatures outside, all these factors combine to lower the moisture levels in the air.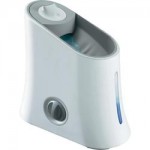 Environmental humidity levels ultimately determine our perception of comfort and most people feel very uncomfortable when humidity is either very high or low. The ideal humidity in a home has to take into account the needs of each of a home's inhabitants, as well as contribute to a suitable environment for household items like books, furniture and electronics.
A level of relative humidity (RH) of between 40% and 60% is recommended as being just right for a comfortable home environment.
Very low humidity (i.e. a very dry atmosphere) can contribute to breathing problems and to drier skin, particularly in the elderly. Static electricity, as well as damage to electronic equipment are all signs of too little moisture (i.e. very low humidity), which can also cause plants and furniture to dry out.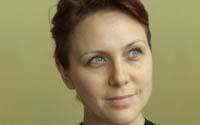 About the Author:
Chantal Cooke is an award winning journalist and broadcaster with a passion for the planet. In 2002 she co-founded the award winning radio station PASSION for the PLANET and in 2009 Chantal was awarded London Leader in Sustainability status. Chantal also runs a successful communications agency – Panpathic Communications.
YOU CAN WIN A HUMIDIFIER with PASSION for the PLANET! ENTER NOW.